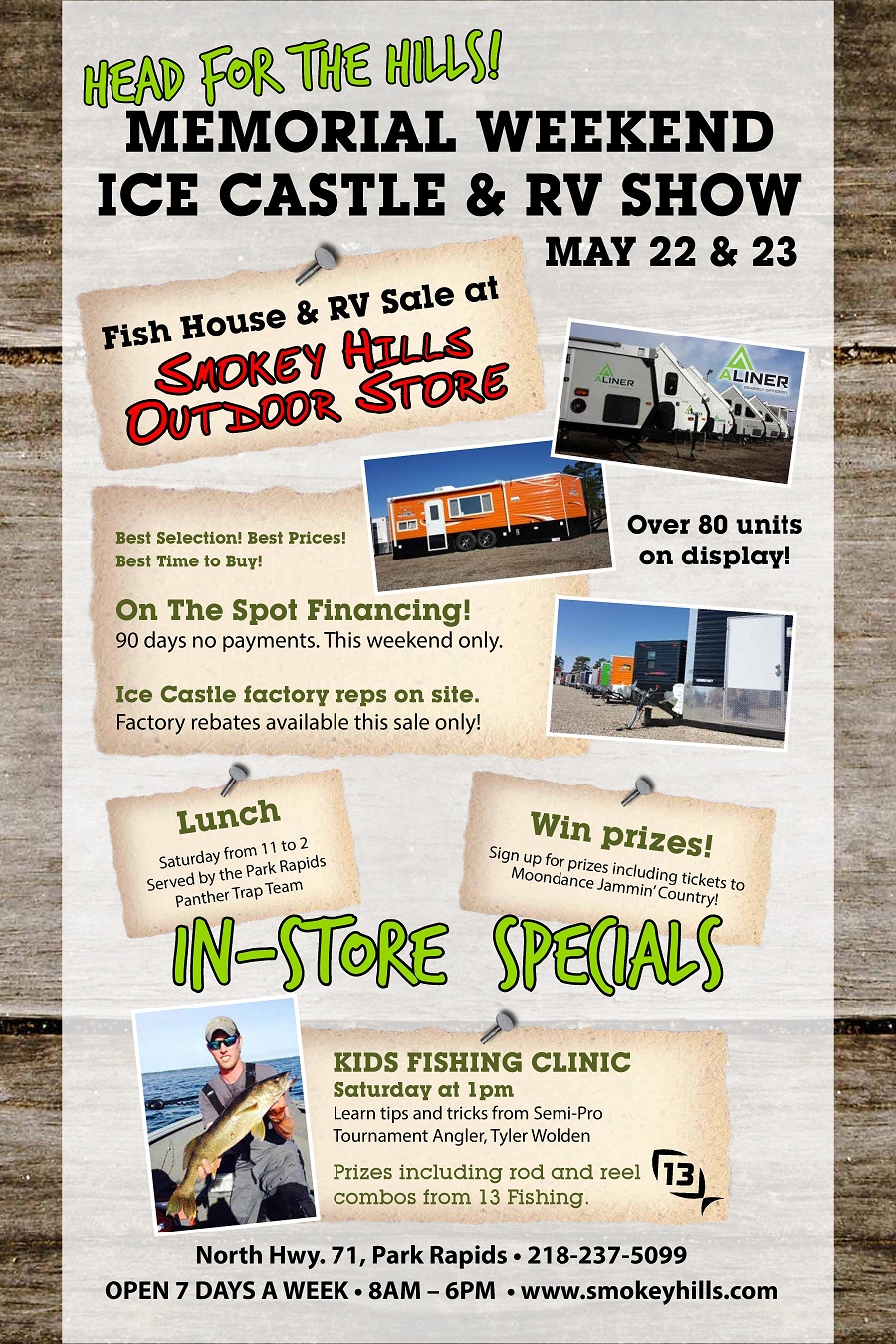 Ice Castle has teamed up with Smokey Hills Outdoor Store to showcase and provide factory direct rebates on brand new Ice Castle RV & Ice Castle Fish Houses. American Surplus (Ice Castle's parent company) is sending factory reps on site to answer questions about the manufacturing process. Ice Castle is in year number four in the State of Minnesota as #1 in RV sales. Ice Castle has continued to fine tune their ever improving product and is excited to show you the advancements. Stop by and chat with the pros about your current Ice Castle or the Ice Castle that you would like to purchase. Ask questions about the new siding, customization options, rebates available, unit weights, hydraulics, frame options, et cetera.
The Smokey Hills Outdoor Store staff is excited for this event and have been busy getting everything aligned for the big weekend. Semi-Pro & Smokey Hills Outdoor Store Sponsored Angler Tyler Wolden will be here in person to host a Kid's Fishing Clinic. Bring your kids to learn about fishing basics, lures, techniques and more. Tyler will be handing out free prizes for each child in attendance and will be holding a drawing to win 13 Fishing™ Rod Combos (sponsored by 13 Fishing™ and SHOS). The fishing seminar starts at 1pm on Saturday, May 23rd. Get here a little early and get a hot meal barbecued by the Park Rapids High School Shotgun Trap League.
If you are looking to buy a new or used Ice Castle, now is the time. We are offering 90 days no payment financing for this RV Show only. We shop for the best rate possible and rates start at 3.49%. Other financing with zero money down and extended terms keep payments $125 to $300 per month. The financing is "on the spot" and approvals take ten to fifteen minutes on average. Six to eight select Lake of the Woods Edition 8×16 Ice Castles will be "Yellow Tagged" and have factory direct and factory approved super low pricing. We will also be offering factory rebates on custom ordered units and have a full staff to help you design and order the Ice Castle of your dreams. The ever popular A-Liner "A Frame" hard top campers will also be on display. These versatile campers only weigh 1,500 pounds and can be towed with almost any vehicle.
We can't wait to show you our massive 80+ unit inventory, see you soon!
-Smokey Hills Outdoor Store Staff