The Patriot house is a collaboration between Smokey Hills Outdoor Store and Ice Castle Fish Houses to give back to the service members in our community.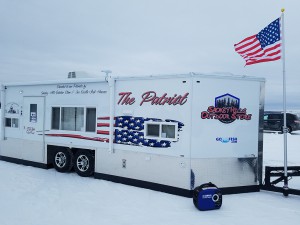 Who is Eligible to use the fish house?
All branches of the military, active, veteran and reserve
Law Enforcement from all departments
Fire and rescue including full or part time and volunteer
EMS, first responders and emergency services
*Proof of service might be required
How do I book the fish house?
Sign up in advance at Smokey Hills Outdoor Store in Park Rapids or Call us.
Time slots that are available are:
Morning: 8:30am to 12:30pm OR
Afternoon: 1pm-5pm
The house will be located on Fishhook Lake.
The fish house is FREE to use and includes propane, bait and fishing equipment.
Equipment included is Fishing Rods x4 , Rattle reels x4, various jigs, pliers
Bring your own Pop and food.
No Tabacco allowed.
The fish house is equipped with a Toilet.
Keys need to be picked up and dropped off at Smokey Hills.
Groups are encouraged to book in advance with special requests.
The person reserving the house will be responsible to make sure everything is locked up, cleaned up and put away before leaving.
Help us keep the lake clean
Please let the Staff at Smokey Hills know right away if something is broken, missing or not working correctly.
Smokey Hills Outdoor Store reserves the right to refuse use of the house to anyone and might close it down if conditions are not safe.